We are always trying to support you on the usage of new technologies. Especially in the area of operating system there is an obvious trend towards open system.
As SuSE Business Partner we can offer you the possibility to use those system for your business. Due to our partnership we have the direct support of SuSE.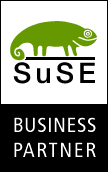 As one of the leading Linux distributors, SuSE offers a wide range of products. We can only offer a short overview on these products here. You can obtain further in formations directly from the SuSE web pages.
You can order all SuSE products from us. Gladly we will offer you our support on your Linux projects.